There is a variety of air pollutants that have known or suspected harmful effects on human health and our natural environment. In most areas of the world, these pollutants are principally the products of combustion from space heating, power generation or from motor vehicle traffic. These effects can be mentioned below
Hậu quả của ô nhiễm môi trường bằng tiếng anh (Effect of air pollution on human health)
Air pollution has a significant impact on the respiratory system of the whole person. Emissions from vehicles are very harmful to the lungs. In addition, fine dust is the most dangerous pollutant because it exists for a long time in the air and disperses very far. Due to its small size, if it penetrates deep into the lungs, blood causes respiratory diseases, infertility …
Air pollution also makes people dizzy, headache, cardiovascular … These gases like Nitrogen Dioxide, Sulphur Dioxide…irritate the airways of the lungs, increasing the symptoms of those suffering from lung diseases.  The most affected factors to people are the elderly, pregnant women, sickness, young age under 15 … Each group of object will be affected differently depending on health status and pollution levels.
In addition, heat waves or noise also cause certain harm to people. Noise is more likely to cause injury to the ear but also causes headaches, stress, nervous stress …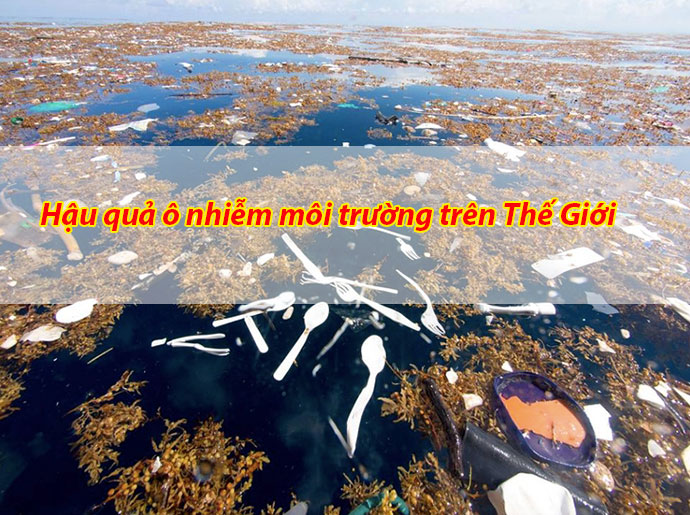 Besides, climate change makes temperature rise abnormally to tends to increase. This causes lots of diseases such as heat stroke, heat-induced mice or even death.
Effect of water pollution on human health
Effect of water pollution on human health in 2 ways. Firstly, eating / drinking must be contaminated water or plants and animals that are cultivated in polluted environments. Secondly, due to direct contact with polluted water environment.
Diseases caused by water pollution include diarrhea, cholera, typhoid, hepatitis, encephalitis, mosquito-borne disease, anemia …
Effect of soil pollution on human health
The use of pharmaceutical chemics in agricultural production is inevitable. However, if the people do not use the right dosage, it will lead to excess chemicals and soak in the soil.
Xem thêm: Bài luận tiếng anh về gia đình
This effect causes a biological imbalance between soil and plants. In addition to affect the quality of agricultural products, soil pollution also causes poisoning of agricultural products. If people use these agricultural products, it will affect their health a lot.